Many visits to Chinese or Thai restaurants start off with a bowl of prawn crackers to nibble on while you browse the menu. The local Chinese takeaway throws a bag of them in with each takeaway order. They make for a pleasant light and fluffy snack to nibble on. It had never occurred to me to try making my own until I stumbled across this recipe over at Sous Chef. They show how to make two variants – a plain prawn cracker and one coloured black with squid ink. Quite conveniently, they sell squid ink, so I promptly bought some.
Making the crackers is surprisingly easy, although they do take a couple of days (it's mostly waiting time). The end result is excellent – light, melt in the mouth, and extremely tasty. These  crackers have a much more robust, meatier flavour than the ones usually found.
280g shelled, cooked prawns
280g tapioca flour
water
1tsp fine salt
1tsp squid ink
Blend the prawns in a food processor until you get a smooth paste. Add the tapioca flour and salt, and pulse the food processor until the ingredients are well blended. Next add some water, a little at a time, until the dough starts form. It's ready if you can squeeze some with your fingers into something that holds its shape. The dough should be stiff and fairly dry. (I only have a small food processor, so I did this final step in a couple of batches, then I put all the individual batches together on a board and kneaded them into one lump of dough).
Next, divide the dough into two halves. Take one half, knead it gently by hand for a few minutes and then shape into a short, stubby cylinder, 2 – 3 inches in diameter. Put to one side. Place the other half of dough bcd in the food processor, add the squid ink and pulse until the black ink is blended in. Don't worry if it doesn't blend in evenly. Remove the dough and knead gently by hand for a few minutes, as before – this will now distribute the black colour evenly throughout the dough. It should be a uniform back colour throughout when you're finished. Form into a cylinder, just as you did with the pink dough.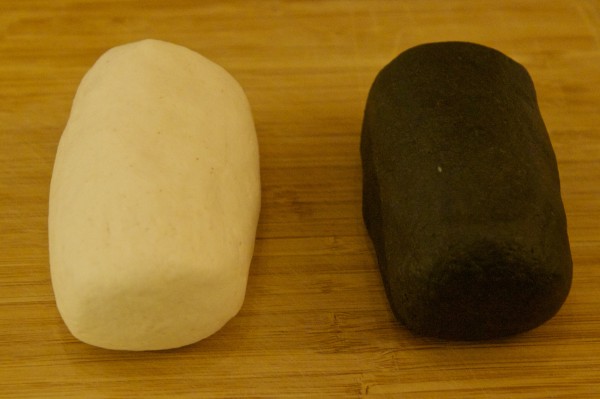 Don't let the pink dough and the black dough touch each other. When working through these steps, always deal with the pink dough first and then then black, to avoid contaminating your pink with streaks of black. Wash your hands and surfaces throughly each time after dealing with the black.
Place the two rolls side by side in a steamer and steam for one hour – if you have a thermometer, the centre of the cylinder should be at least 85˚C (185˚F). Leave to cool.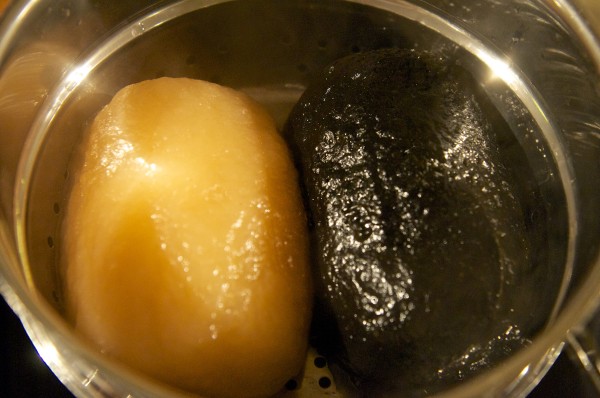 Now, if your steamer is anything like mine, you'll find that the two cylinders only just fit. On trying to get them out again, I found that they had not only welded themselves to each other, but also to the base of the steamer. A little levering with a large spoon finally managed to release them, and I gently trimmed the bit where they had touched with a sharp knife.
Once cool, wrap each cylinder in cling film and leave in the fridge overnight.
The next day, take the cylinders out of the fridge and unwrap the cling film. Slice finely into rounds. You can do this with a sharp knife, but I used a mandoline. I strongly recommend the mandoline – it will be much easier.
Now you need to dry the dough circles. If you have a dehydrator, that is far the easiest option. Alternatively, place the rounds on a baking sheet and place  in the oven set to its lowest temperature. I used a dehydrator set to 50˚C. The crackers are done when they are hard and firm thoughout. Mine took about three to four hours. If yours are thicker (especially if you used a knife rather than a mandoline), they may take rather longer.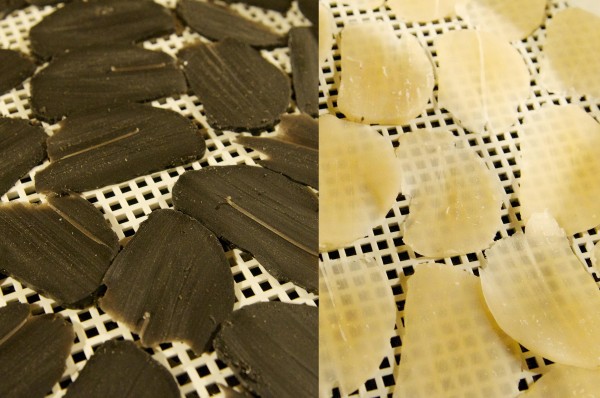 You can store the dried crackers in a cool place in an airtight container.
When ready to cook the crackers, heat a pan of vegetable oil to 200˚C. Fry the crackers in small batches, a few at a time. Drop the crackers in, using a slotted spoon to keep them submerged. They should immediately puff up – it only takes a few seconds. Remove and leave on some kitchen paper to drain.