A good watermelon is hard to find around these parts, and I saw that Riverford had some small watermelons available, I knew I had to have some. I was immediately reminded of a recipe I had made some years earlier, from Sean Brock's Heritage book. I added a couple to my next order, and his Watermelon and Red Onion Salad with Lettuce, Pickled Shrimp and Jalapeño Vinaigrette was now firmly on next week's menu.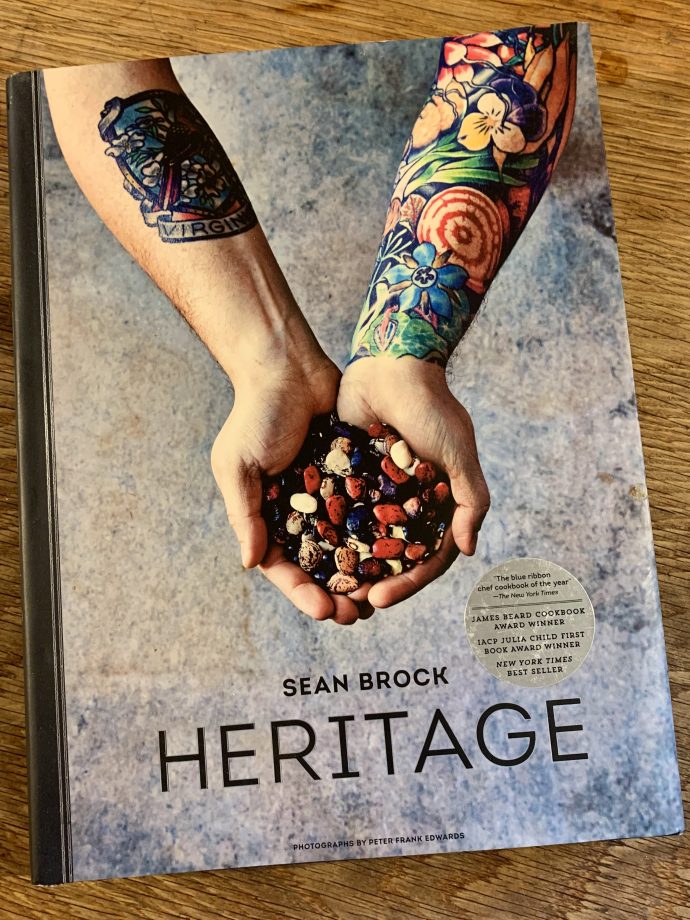 I don't recall exactly what prompted me to buy this book, but it was a good few years ago now. I suspect it was on the back of watching The Mind of a Chef which followed Sean Brock over eight episodes in Season 2.
This recipe caught my eye immediately, and was, I think the first thing I tried making from it. I recall it was extremely good. Time to try it again. Now, Brock calls this Pickled Shrimp, but that's because he's from the Southern USA. Over here, they're prawns. It's his recipe though, so I'll defer to him and use his terminology in this post. And, of course, all the measurements are, rather quaintly, quoted in "cups".
First of all, I have to make the pickling liquid.
2 cups white vinegar
1 cup fresh lemon juice
1/2 cup fresh lime juice
1/4 cup fresh orange juice
1/4 cup extra-virgin olive oil
1 garlic clove, minced
1 tablespoon kosher salt
1 tablespoon coriander seeds
1 tablespoon yellow mustard seeds, crushed
1 teaspoon celery seeds
1 teaspoon fennel pollen
1/2 teaspoon crushed red pepper flakes
1/2 teaspoon turmeric
1 fresh bay leaf
"White vinegar" seems a little vague. I'm guessing he doesn't mean Sarsons, so I use white wine vinegar. Kosher salt? We've got Maldon. And I'm all out of that store cupboard staple of fennel pollen, so I throw in a few fennel seeds instead.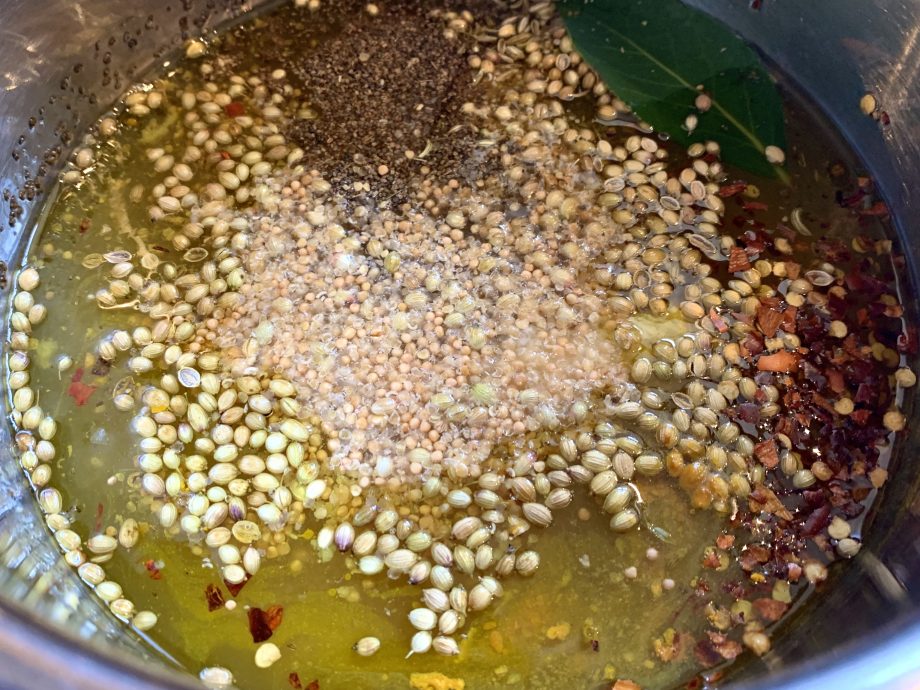 All those go into a pan and simmer gently for 10 minutes. Now, whenever I boil something that contains vinegar, Sue complains within moments about the smell. Sure enough, after a minute or so of simmering, she shouts out into the kitchen. "That smells really nice," she says. I'm a little surprised, but she's right – this does smell really good. You can, of course, smell the vinegar, but it's not at all overpowering – it's tempered nicely by the citrus and spices.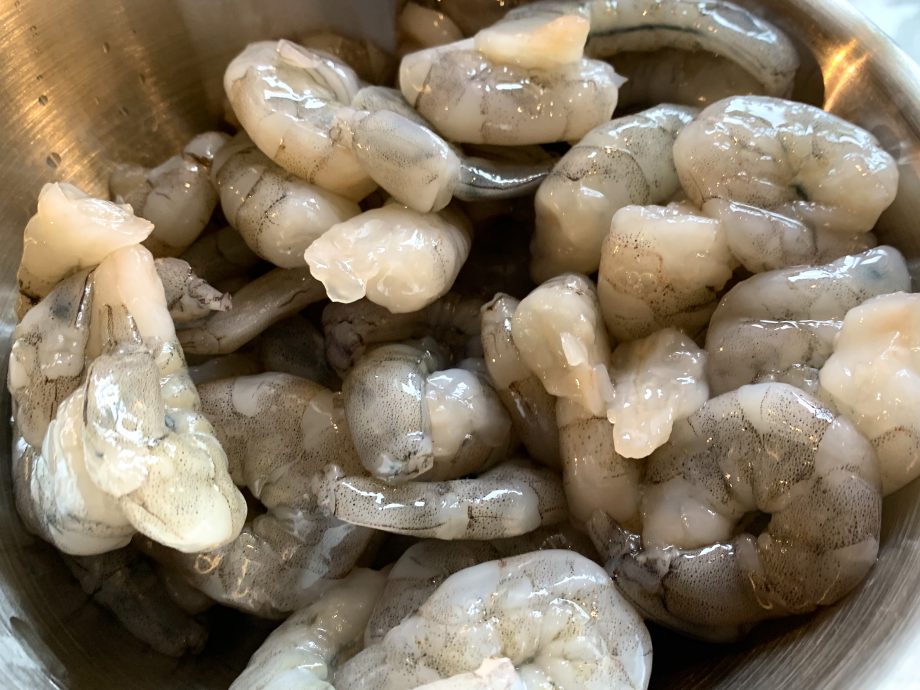 After 10 minutes, I remove it from the heat and add 1 1/2 pounds of large, peeled shrimp and leave them to poach in the warm liquid for 15 minutes or so.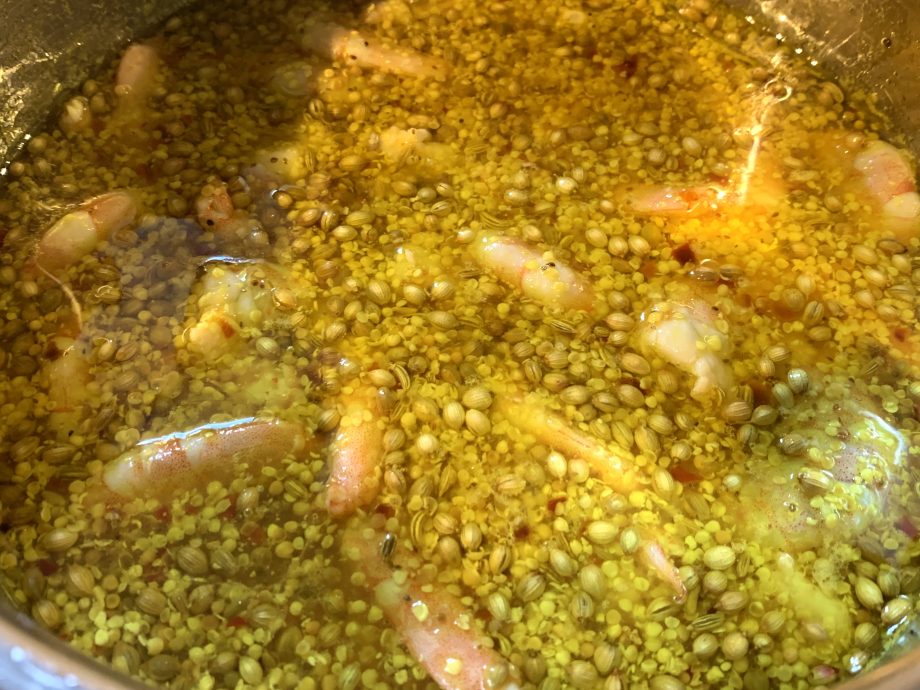 Once they're done, I take the shrimp out and put them in the fridge while I wait for the liquid to cool completely.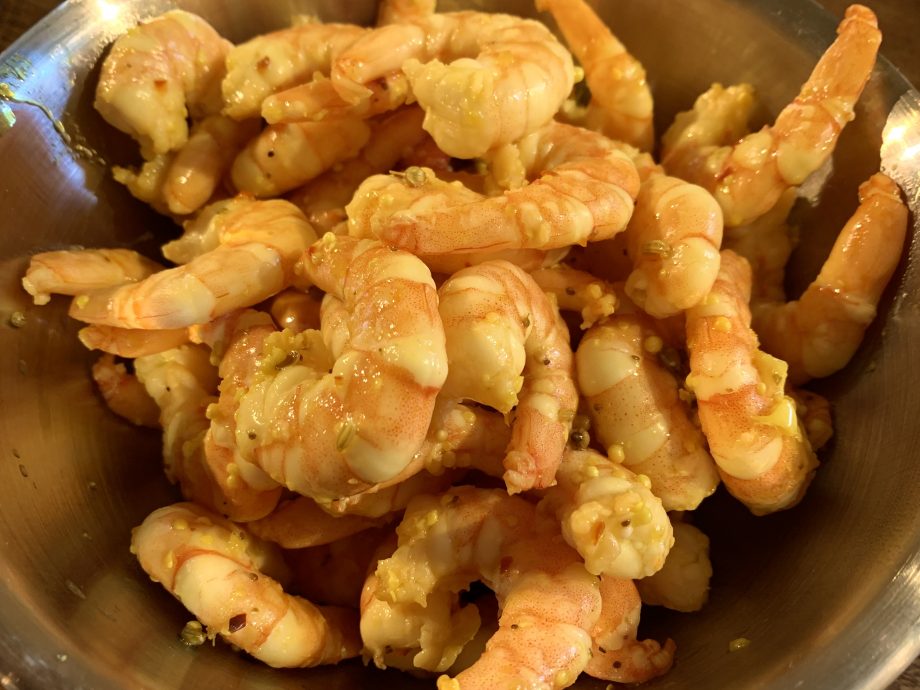 Once the liquid is cool enough, I add the shrimp back and put everything into a glass pot and put it into the fridge to cure.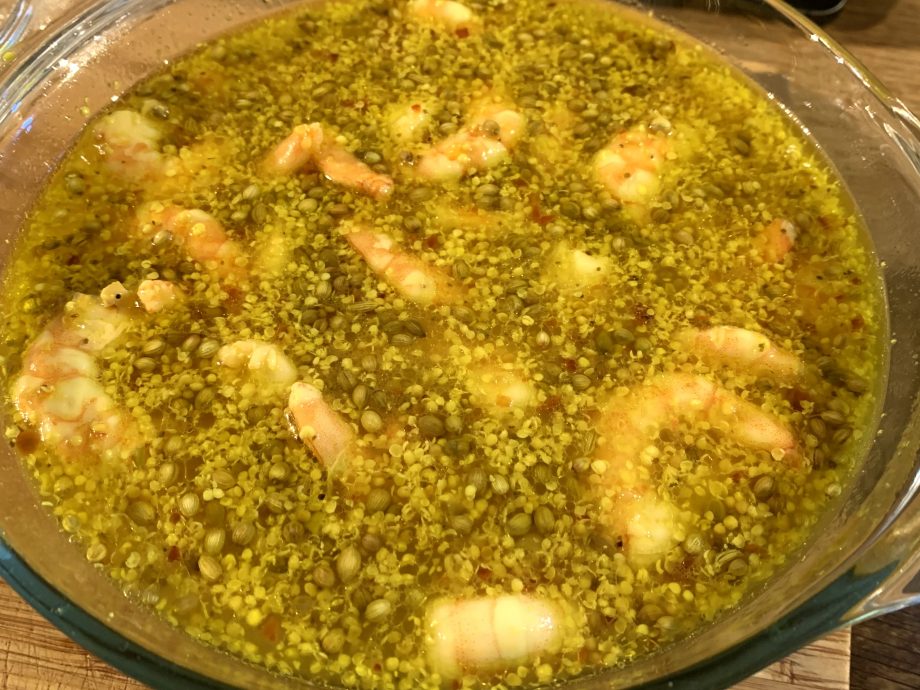 The recipe says I must leave it at least two days, and up to two weeks.
So, five days later, I decide we're ready to eat them. Now for the Jalapeño Vinagraitte:
3 jalapeño peppers, seeded and diced
Microplaned zest of 1 lime
1/2 cup fresh lime juice
1 1/2 teaspoons sugar
1 1/2 teaspoons kosher salt (Maldon again)
3/4 cup canola oil (I only have sunflower here)
1/4 cup extra-virgin olive oil
I put all the ingredients except the oils into a blender and blend until smooth. The, with the blender still running, I slowly add the oils while the liquid emulsifies.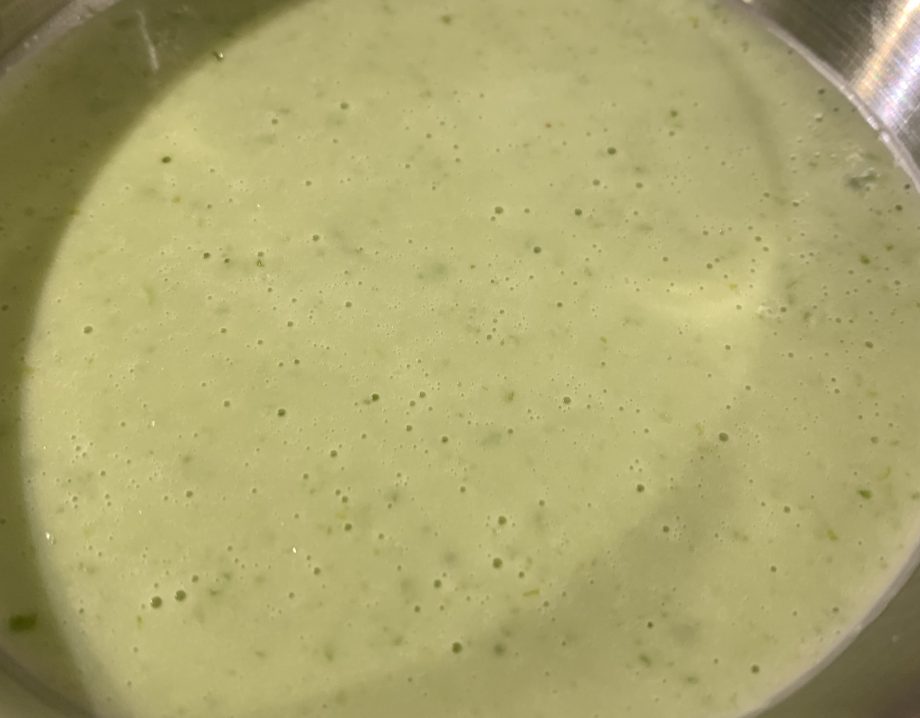 Now to assemble the salad with the final ingredients. The recipe calls for a head of Bibb lettuce – I use Little Gem – and I toss the leaves with enough of the vinaigrette to cover them. The watermelon is cut into 1-inch cubes.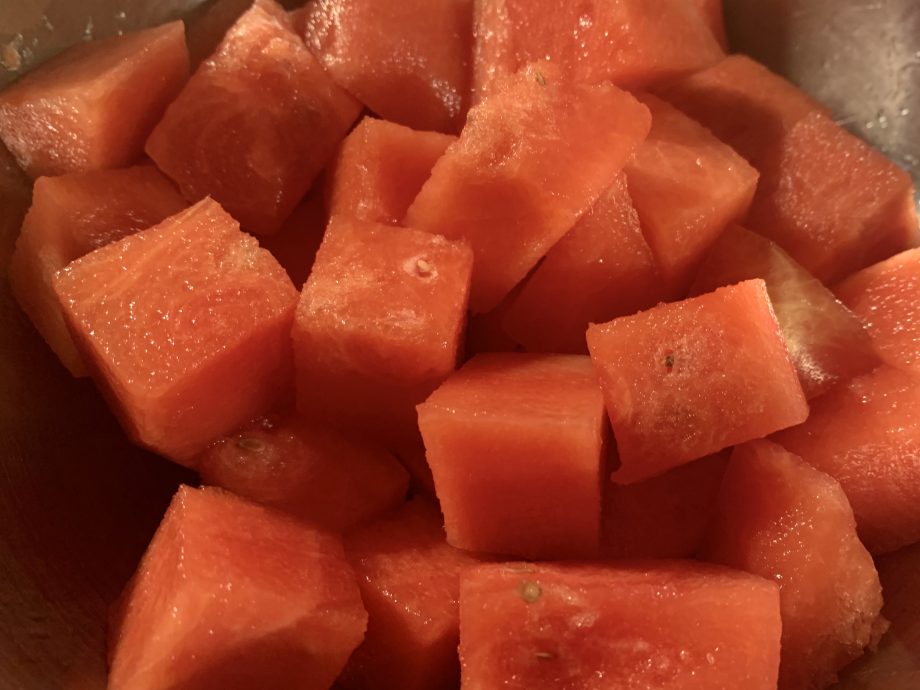 I put the lettuce, watermelon and shrimp into two bowls and garnish with some paper-thin shavings of red onion.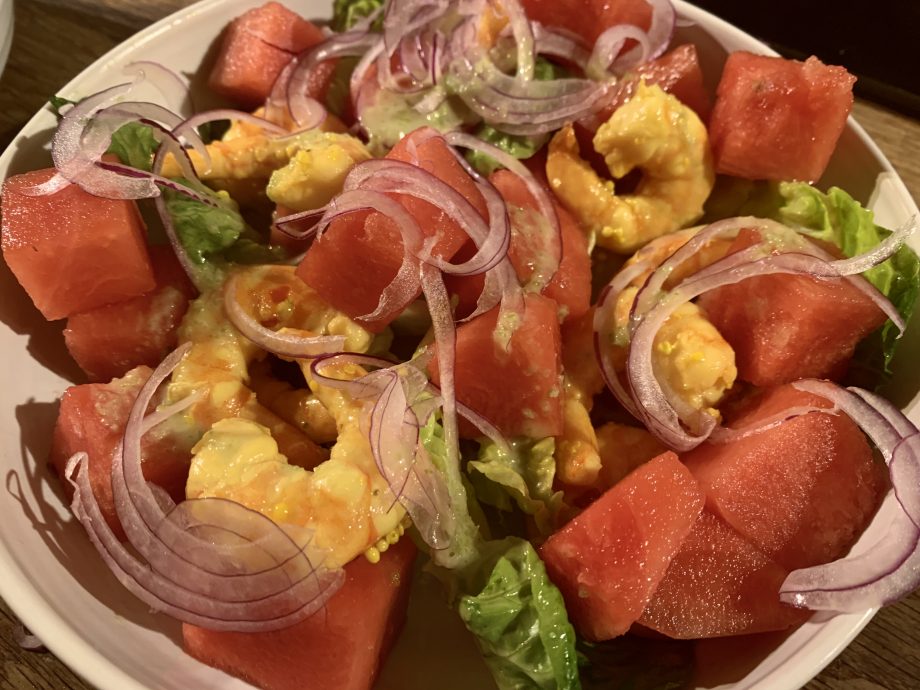 A couple of bites in, and Sue proclaims the dish to be "absolutely delicious." And it is. The sharpness of the pickled shrimp contrasts nicely with the sweetness of the watermelon, and the vinaigrette has just the right level of tang. This isn't a combination of ingredients that I would ever have dreamed of putting together, but the whole effect is fantastic.