For dinner last night, I wanted to try something with my home-made tempeh, so I came up with this: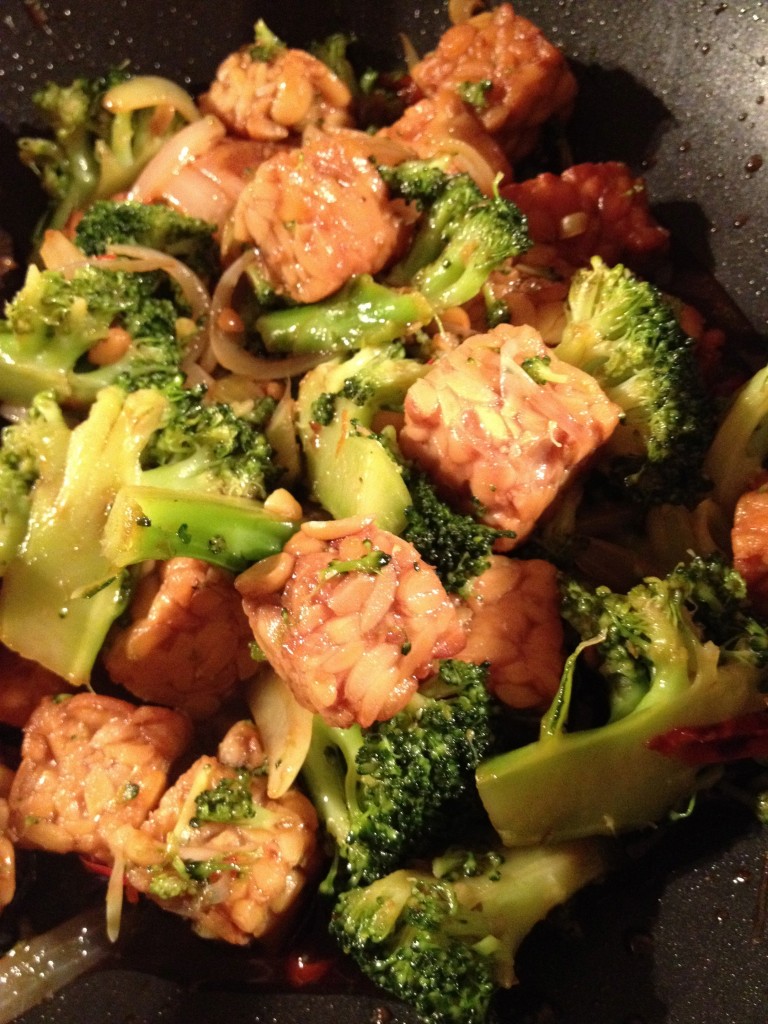 Very tasty, and extremely quick and easy to make.
I didn't measure most of the ingredients, I'm afraid, but just judged them by eye – I'm sure you can figure out how much tempeh and broccoli you feel like eating though. So, here goes:
Stir-fried Tempeh with Broccoli, Garlic and Chilli (Serves 2)
Tempeh, chopped into 1″ cubes
Broccoli, broken into similar sized florets
1 onion, sliced
4 cloves garlic, sliced thinly
1 red chilli, sliced
2 tbsp dark soy sauce
2 tbsp light soy sauce
Oil for cooking
Steam the broccoli until just tender,  then quickly cool it in cold water to stop it cooking further or discolouring.
Heat some oil in a wok or frying pan and stir-fry the tempeh until lightly browned. Remove the tempeh from the pan and put to one side. Add a little more oil and stir-fry the garlic and chilli for about a minute until the garlic becomes a light golden colour. Add the onions and stir-fry for a couple more minutes. Add the tempeh and broccoli and stir to mix, then add the soy sauce and cook for a few more minutes.
Serve with plain, boiled rice.