A large plastic tub containing eight kilograms of yellow maize arrived on my doorstep this morning (along with a similar tub containing wheat), so I felt obliged to make something with it this evening. I milled some of the corn into cornmeal, and decided to make cornbread.
I must confess, I never realised that cornbread was such a contentious subject until I started to look around the internet for a suitable recipe, but boy do people have strong opinions about their cornbread. Pretty much every recipe I found was followed with comment upon comment about how that wasn't proper cornbread and only the way their grandmother made it was right. And of course, every single opinion on the one true way to make cornbread was different. There are an awful lot of one true ways out there, it seems.
Anyway, my main criteria was to try to find a wheat free recipe. Most recipes, it seems, do include wheat flour, but there were a few that didn't. The recipes also typically included buttermilk. Now, I don't know about you, but buttermilk isn't something I tend to have kicking around in the fridge, so I improvised with regular milk and some lemon juice to add a little acidity. As I mixed the batter, I found it was a little on the runny side, so I added some more cornmeal to thicken it up a little – I guess that might have been because I was using freshly ground cornmeal though.
So, here's the recipe.
2½ cups cornmeal
1 tsp baking powder
1 tsp bicarbonate of soda
pinch of salt
2 cups milk
juice of half a lemon
2 eggs
¼ cup lard or bacon fat
Heat the oven to 220°C/430°F.
Stir the dry ingredients together into a bowl. Beat the eggs, milk and lemon juice together, and then add to the dry ingredients. Beat well. The batter should have the consistency of double cream.
Place the lard into a heavy baking tin or iron skillet and place in the oven until hot. Remove from the oven and poor the fat into the mixture, stirring as you go. Leave just enough fat in the pan to coat the bottom and sides. Pour the batter into the pan and place in the oven. Cook for around 20 – 25 minutes until the bread comes away slightly from the sides of the tin and the top is golden brown. You can test to see if it ready by pricking the bread with a skewer – if it comes out clean, the cornbread is done.
Leave to cool for a minute or two and then turn out of the tin onto a serving plate – you might need to loosen the bread from the sides and base of the tin with a palette knife or metal spatula.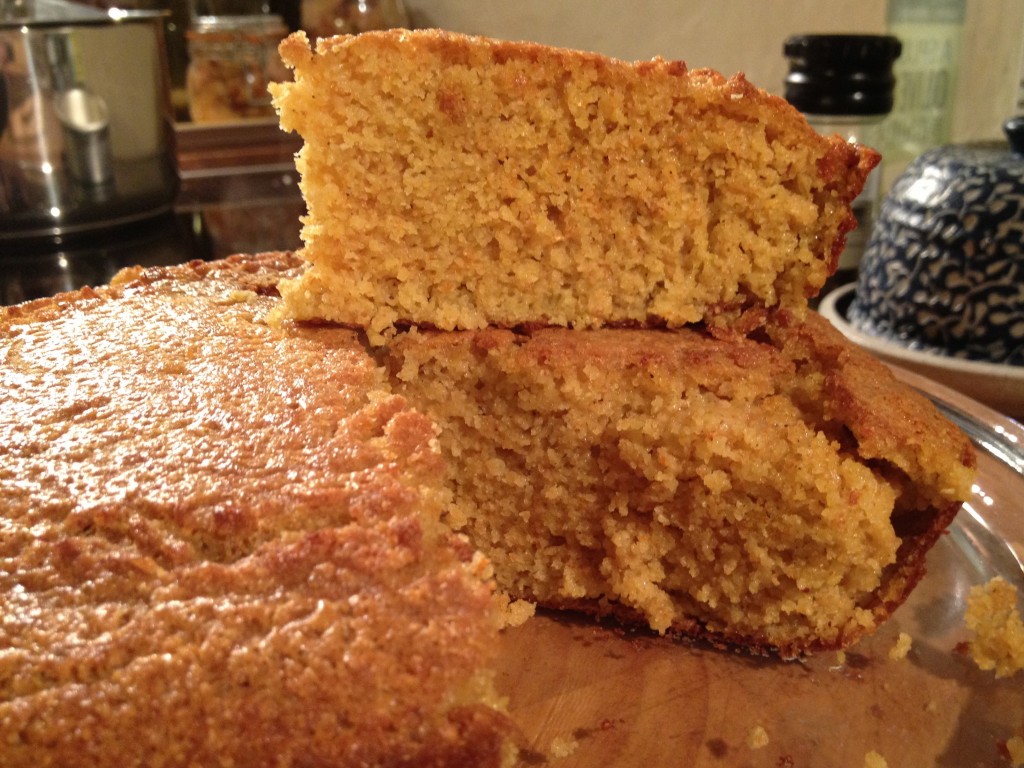 I served the cornbread with a chilli con carne. It was delicious.