To kick off my journey through my cook book collection, I decided to start with an old favourite. The Curry Club Indian Restaurant Cook Book by Pat Chapman.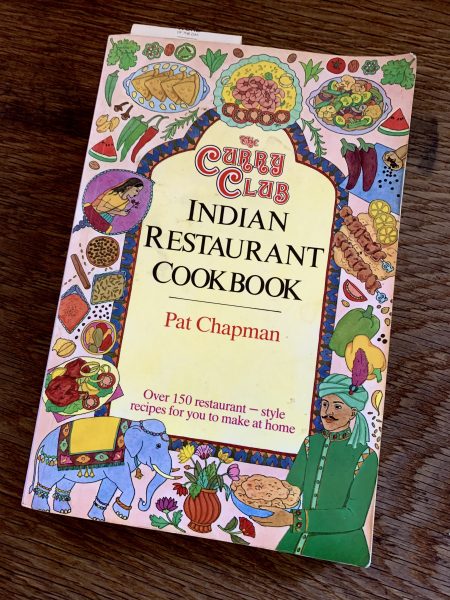 This one was an early addition to my collection. First published in 1984, my copy dates from 1989. I used to use this book a lot and have several more by the same author, but I haven't picked it up in a good many years now. Pat Chapman regularly had a stand at the Good Food Show in Birmingham, and we saw many a cookery demonstration with him there.
The tag line on the cover is Over 150 restaurant-style recipes for you to make at home. I'm not sure that's wholly accurate; looking through it now, many of the dishes don't seem like the ones you would find in a typical British Indian restaurant – they have more of a hint of home cooking about them.
Over the years, I must have cooked a fair number of the recipes in this book, so choosing is tricky. The madras was always a favourite though – something that was immediately obvious by the amount of curry splashes on the page. There's some shin of beef in the fridge that needs using, so Beef Madras it is.
It's very easy to make. First of all, prepare all the ingredients. The recipe calls for 675g meat or poultry – there's just 400g of shin though. That will have to do. I cut that into small cubes (he suggests 1″, but I prefer slightly smaller chunks), removing excess bits of fat.
Next, one large onion, sliced thinly.
Prepare the spice mix:
4 dried red chillies (I used Bird's Eye Chillies)
1/2 tsp round black pepper
1/2 tsp chilli powder
1 tsp cumin seeds
1 tsp fenugreek seeds
1 tsp turmeric
2 white cardamoms
Cook the beef in some oil until browned all over, then remove with a slotted spoon and put to one side. Cook the onions gently in the same oil until they are golden brown. Add the spices and cook for another 5 minutes.
Next, the recipe calls for one 400g tin of tomatoes, and 2 tbsp tomato purée. I currently have a glut of tomato juice drained from tinned plum tomatoes (I use the drained tomatoes for making pizza sauce) so I use that instead – about 500g, as I figure it will reduce down.
Simmer for ten minutes and then pour the sauce into a casserole dish together with the meat and its juices, and cook in the oven for an hour or so.
I also decide to be reckless. There's less meat than the recipe calls for, so I peel a potato, cut into cubes and throw that in to help pad it out a little.
Half way through, I take it out to give it a stir, and the tomato has reduced down quite a bit, so I top up with a generous glug of juice (the recipe says to add water at this point if you need to – more tomato must surely be better, right?).
The madras has a very distinctive, pungent aroma while cooking – very different to most other curries I make. I guess that's the fenugreek.
Finally, about ten minutes before serving, I add 2 tbsp freshly squeezed lime juice, some salt and a dessertspoon of garam masala. The recipe also calls for a dessertspoon of fenugreek leaves here, but I don't have any. I'm not sure I've ever had any, to be honest.
Whilst that finishes cooking, I get some plain boiled basmati rice on.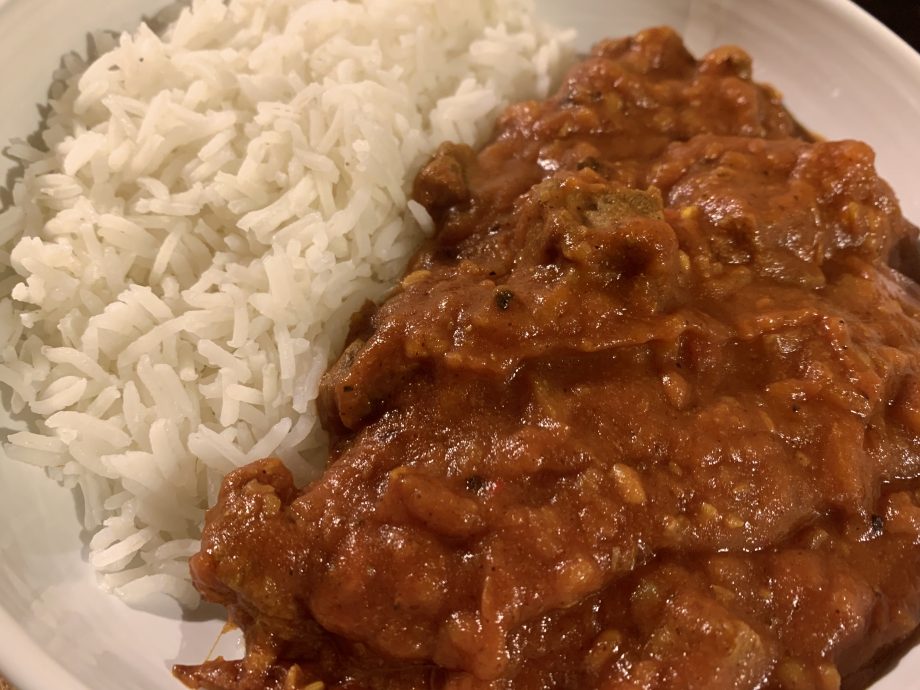 It's very nice – pretty much exactly as I remember it being. Spicy, but not unpleasantly hot. Packed with flavour – all those reduced tomatoes really give it a zingy umami punch. The potato is a good addition – I love potato in curries, they soak up lots of flavour and provide a nice textural contrast to the beef here.
And the best bit? We have leftovers. Probably enough for a second dinner – certainly enough if I make a vegetable side to go with it.