Hugh's Three Good Things takes a very simple premise – make a dish using just three ingredients – and produces a large array of very tasty looking recipes. Of course, the three ingredients thing is a bit of a cheat – pretty much all the recipes list more than that, but they're typically flavourings – herbs, spices, seasonings and so on.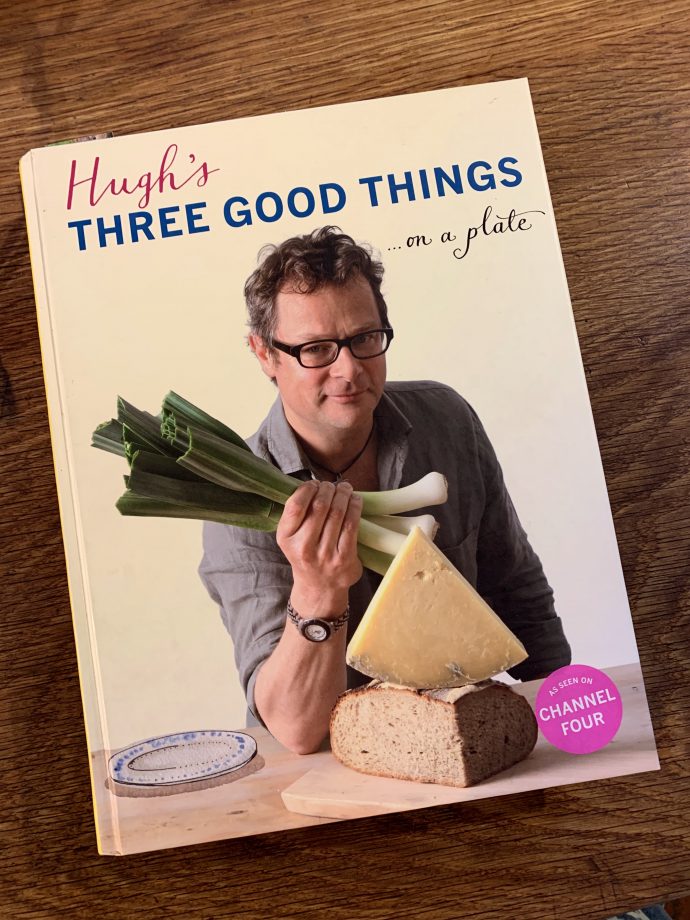 We have some leftover roast leg of lamb in the fridge. I'd normally turn that into a shepherd's pie, but I noticed a recipe in this book that looked like a good way to use some of it. The three ingredients are lamb, spinach, chickpeas. As well as those three, it also wants some merguez spices, garlic, lemon juice and salt and pepper. A total of fifteen ingredients. I guess Hugh's Fifteen Good Things isn't such a snappy title.
I start with the merguez spice mix.
1 tsp cumin seeds
1 tsp fennel seeds
1 tsp coriander seeds
1 tsp caraway seeds
10 – 12 black peppercorns
1 tsp sweet smoked paprika
pinch of cayenne pepper
I toast the seeds and peppercorns in a small frying pan for a minute or so, then put them in the grinder together with the paprika and cayenne, and blitz them to a powder.
Now the rest of the ingredients.
225g large leaf or baby spinach
3 tbsp extra virgin olive oil
200g leftover cooked lamb, cut into broad strips
1 garlic clove, finely chopped
1/2 x 400g tin chickpeas, drained and rinsed
Squeeze of lemon juice
Sea salt and freshly ground black pepper
For the spinach, Hugh says that if you're using large leaf spinach, you need to cook it first in some boiling water for a minute or two. I have baby leaf that came in the veg box last week, so I don't need to do that.
I heat 1 tablespoon of the olive oil in a large pan and fry the lamb strips gently for a few minutes until they brown. Then, I add the spinach, a handful at a time, letting each batch wilt a little before adding the next.
Next, I add the rest of the olive oil, the garlic, the chickpeas and 1 tablespoon of the spice mix, together with a little salt and pepper.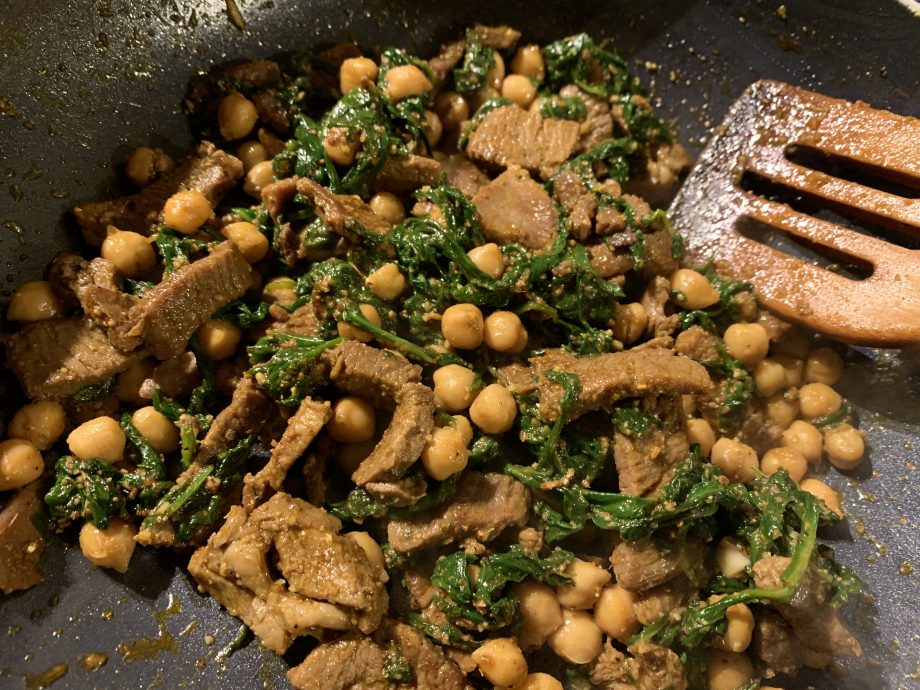 Finally, I add the juice of half a lemon, and taste. It definitely needs a little more spice, so I add another half-tablespoon or so of the merguez mix and stir it through.
I've made some flatbreads to go with this, and serve with some plain yoghurt, sprinkled with a little salt, pepper and some of the spice mix.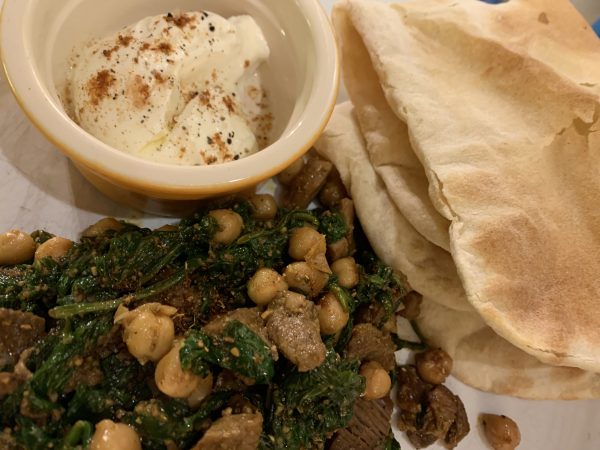 It's good. Very tasty, and the flavours all work well together. A resounding hit. I'll definitely remember this one next time I have some leftover lamb.