It's wild garlic season – one of the most delicious free foods you could imagine. We're lucky to have two decent sized patches of it in the garden, and so I love this time of year. I regularly pick the leaves and add them to various things – they're delicious stirred into macaroni cheese, as a pizza topping, or just chopped up and sprinkled over pretty much anything.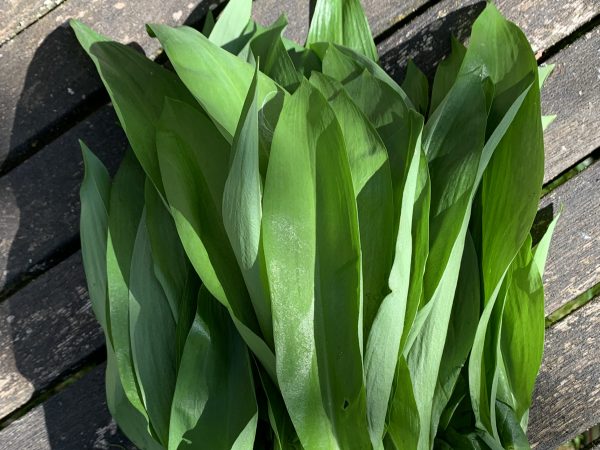 This weekend, I harvested a bunch of leaves to make some pesto with. This recipe is just like a regular pesto but using wild garlic and cashews instead of the more traditional basil and pine nuts. It's very versatile – you can stir it into pasta, add it to a stir fry, use it as a pizza topping, or just as a condiment with sausages or roast chicken. All in all, it's delicious.
100g wild garlic leaves, washed
50g cashews
50g parmesan, grated
extra virgin olive oil
lemon juice
salt and pepper
Toast the cashews in a frying pan for a minute or two, then set them to one side to cool.
Blitz the garlic leaves in a food processor until they start to break down. Add the parmesan and keep blitzing until the leaves are fully chopped. Add the cashew nuts, and blitz once more until those too are chopped into small pieces.
Pour in some olive oil and mix until you get the consistency you desire – you can leave it as a stiff paste to spoon out onto a plate, or add more oil to make a more spreadable pesto. Remember, you can always add more oil later, but you can't take it back out.
Add a generous squeeze of lemon juice, and a little salt and pepper to taste.