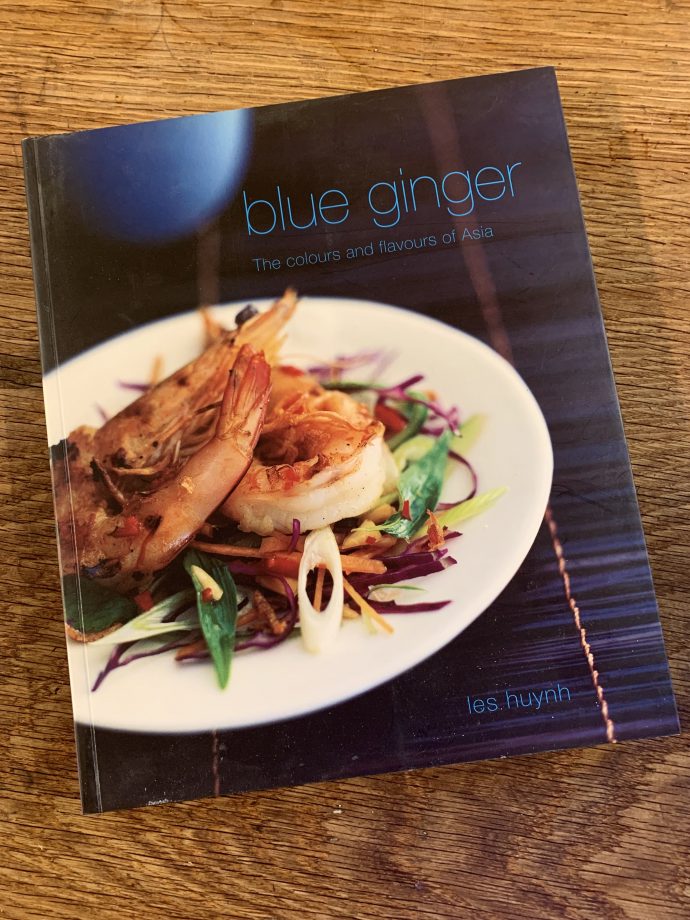 I have no recollection whatsoever of buying Blue Ginger, but I clearly did. Flicking through it, it's easy to see why I picked it up – it's packed full of delicious-sounding Asian-style recipes. Published in 2004, it's sat forgotten on a bookshelf for many years now. I'm pretty sure I've not cooked a single thing out of this book. That will now change.
Blue Ginger is (or at least was – it's not clear if it's still around) the name of the author Les Huynh's restaurant in Sydney.
There's so much here that sounds good, it's hard to choose. I eventually home in on two chicken dishes that I fancy – Rendang Chicken Curry and Wok-fried Vietnamese Turmeric Chicken with Coconut Milk and Asparagus. But which one to choose? It's too hard, I can't pick just one of them. I decide to make them both.
OK, they're both chicken dishes, both with coconut. I guess I could have picked two slightly more diverse things, but this is what I'm going with.
I start with the rendang. I've made rendang before – usually with beef or duck, but I've never made it with chicken. All the recipes I've used before involve reducing it down slowly over several hours. This one claims 40 minutes. Let's see.
First, the curry paste:
8 dried long red chillies
4 garlic cloves, peeled and roughly chopped
8 red Asian shallots, peeled and roughly chopped
1 lemon grass stem (white part only), sliced
5cm know fresh ginger, chopped
1 tbsp sliced fresh galangal
"Long red chillies" is a little vague. I have a very healthy selection of dried chillies in my cupboard and have a rummage through. I select a Thai variety – Prik Chee Fah. I soak them in hot water for a few minutes to soften, then remove the stems and seeds.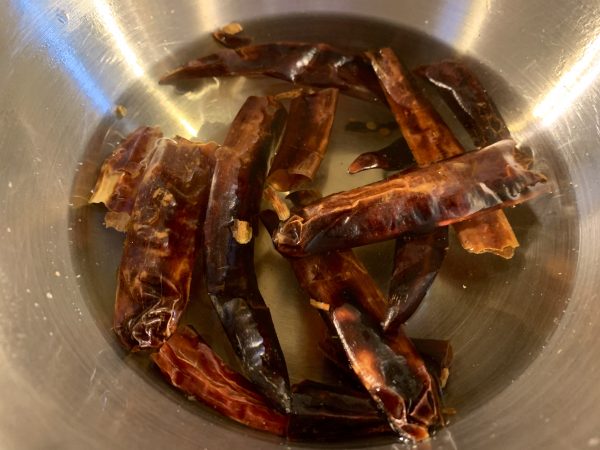 The galangal comes out of a jar – fresh galangal isn't something you often see round these parts, even without the additional complications of being in the middle of a pandemic.
As for Asian shallots, no chance. I use regular echalion shallots. I guess that about three of those would be about the same as 8 Asian shallots.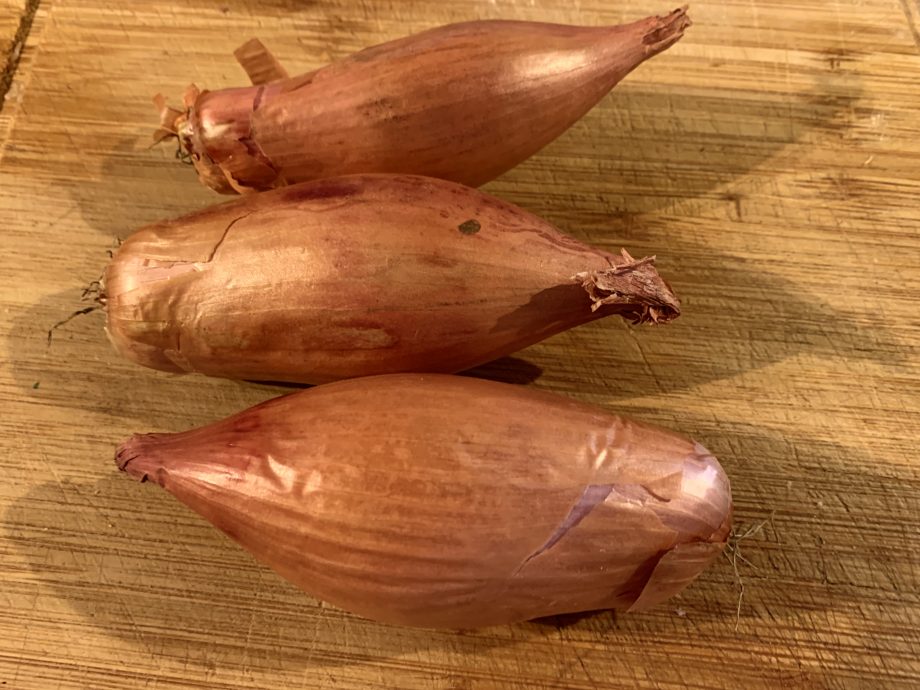 Next, the book tells me to pound all the ingredients in a mortar and pestle to a fine paste. Naturally, I reach for the food processor.
With the paste made, I assemble the rest of the ingredients.
250ml coconut cream
4 tbsp roasted shredded coconut
500 ml coconut milk
4 makrut (kaffir) lime leaves, torn
1/4 tsp ground turmeric
1 tsp ground coriander
500g chicken thigh fillet, cut into 5cm pieces
1 tbsp shaved palm sugar
2 tbsp fish sauce
I can't get shredded coconut, so I have sliced. I put some on a tray and toast it in the oven for a few minutes. Well, I say a few minutes. I got distracted. By the time I check them, they're a little on the well-done side.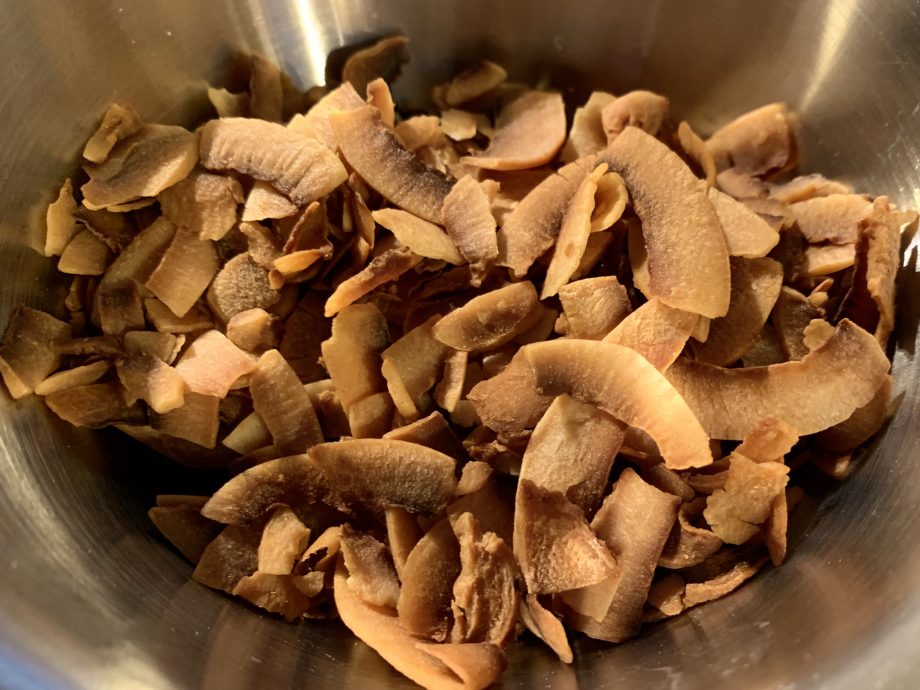 I taste a piece. It's not pleasant. OK, into the bin and toast a fresh batch. This time I don't take my eyes off it for a second. After about two minutes, it's nicely toasted.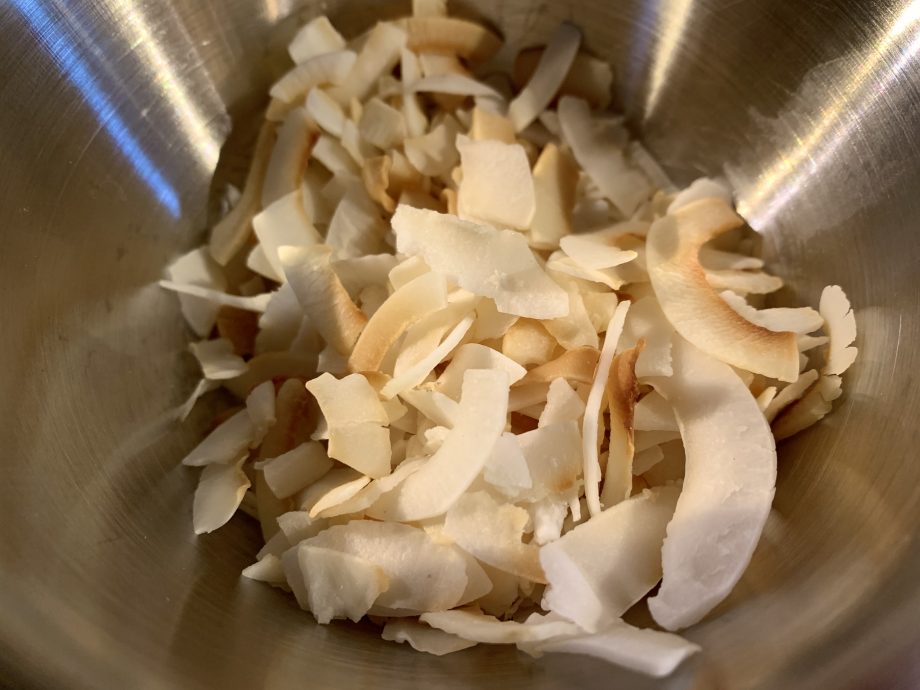 I boil the coconut cream in a saucepan for about 5 – 10 minutes until the oil separates, then add the paste and cook for another 10 minutes.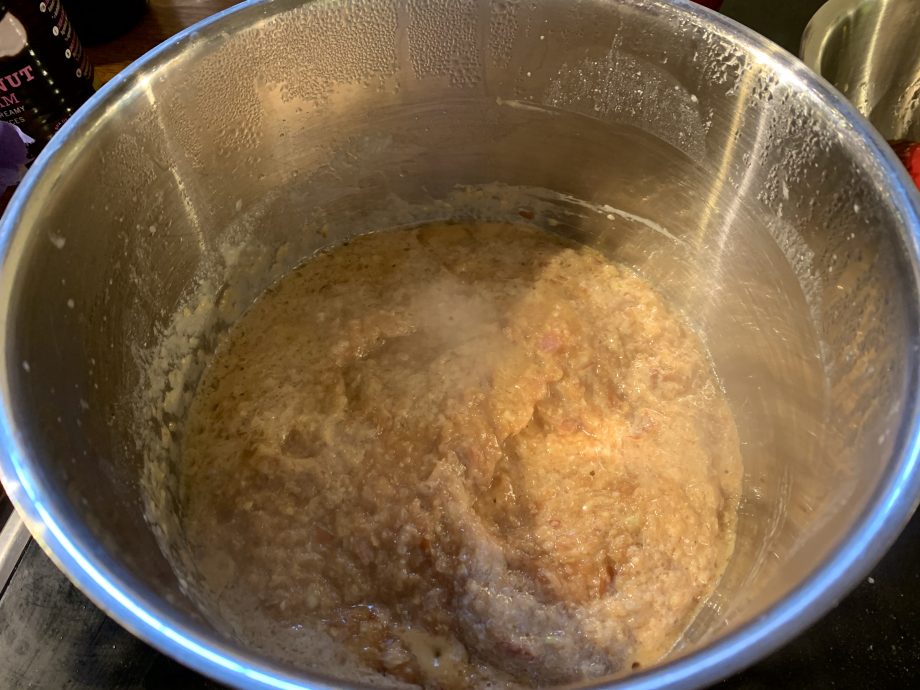 Next, the toasted coconut, coconut milk, lime leaves, coriander and turmeric and cook gently for another five minutes. Finally, the chicken, sugar, fish sauce and a pinch of salt is added, and I leave it to simmer gently and reduce.
While that's cooking, I move on to the other dish.
500g chicken breast, sliced
2 garlic cloves, finely diced
1 onion, roughly sliced
2 large lemon grass stems, white part only, finely sliced
1 long red chilli, sliced on the diagonal
3 tbsp groundnut oil
500 ml coconut milk
300g asparagus, trimmed and sliced on the diagonal
1½ tbsp fish sauce
1 tbsp oyster sauce
5 tsp sugar
2 tsp ground turmeric
I start by combining the chicken, garlic, onion, lemon grass and chilli in a bowl, mixing them well.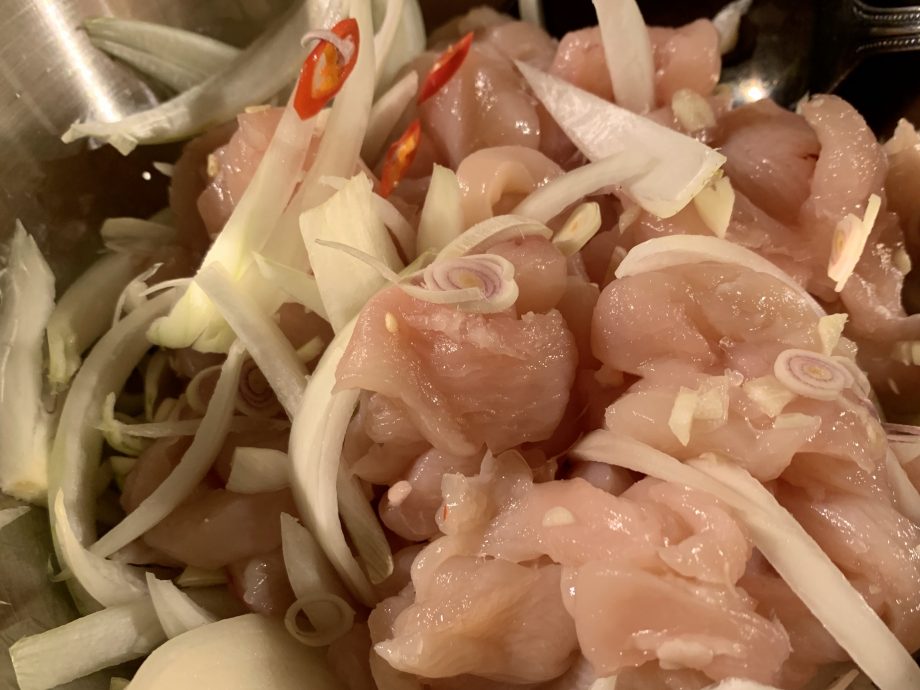 Then stir fry in small batches for a minute or two until cooked.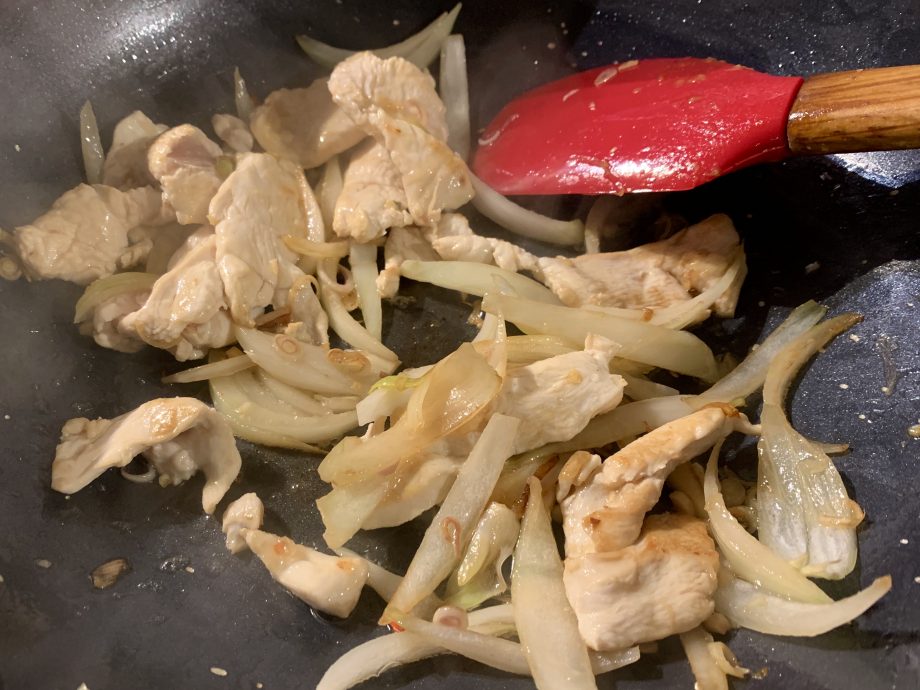 At this point, I check the rendang. Still not reduced enough, so I wait a little until it's done – about another half hour or so. That 40 minutes thing was clearly a little optimistic.
After a brief pause, I finish off the Vietnamese chicken. I put all the chicken back in the wok with the coconut milk and the asparagus and simmer gently for a minute, then add the fish sauce, oyster sauce, sugar, turmeric and a pinch of salt and cook for a few more minutes until the asparagus is tender.
And we're ready to serve. The recipe wants me to top the Vietnamese chicken with some deep-fried Thai basil leaves, but I don't have any. I toy with the idea of using regular basil, but decide it's just too much effort and skip that. I do sprinkle some chopped peanuts over it though. The rendang, I garnish with a little more toasted coconut, and then serve everything with some plain rice.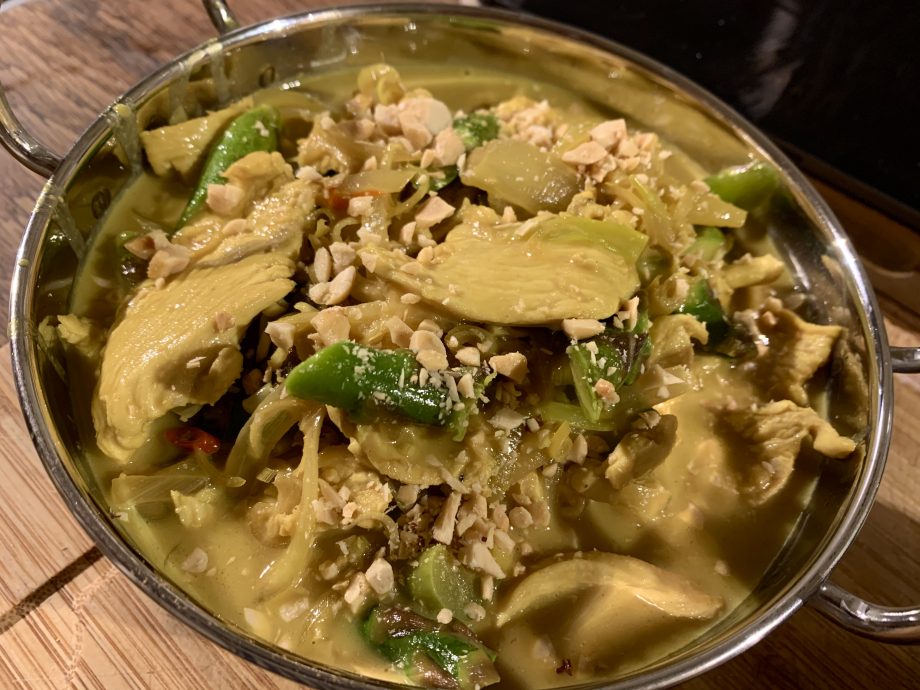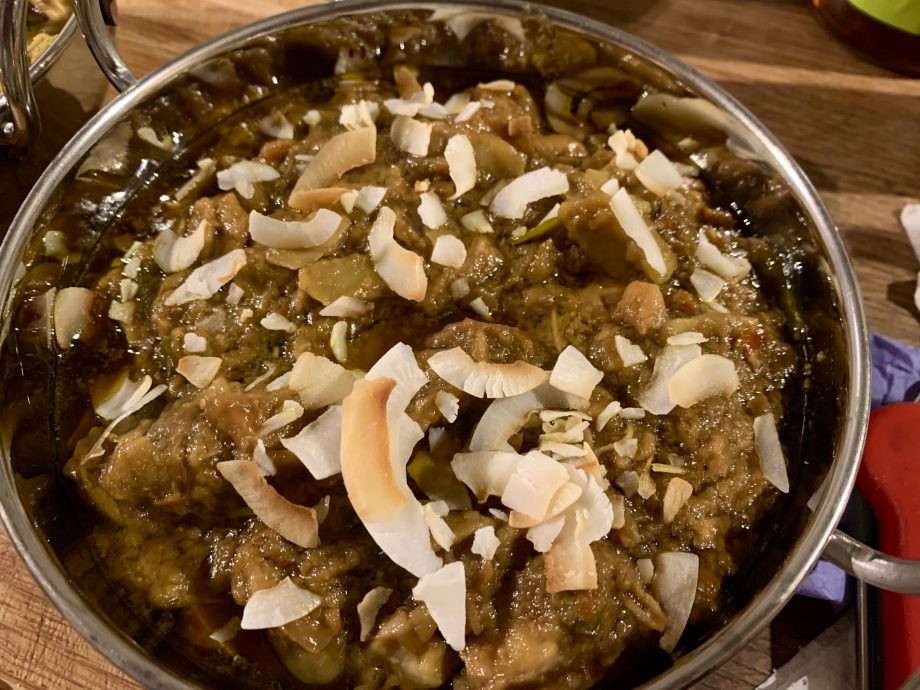 And the verdict? Both dishes were absolutely outstanding. We both loved them. They may have been two "chicken and coconut" recipes, but they were very, very different. The rendang was rich and unctuous, the asparagus dish was lighter and fresher. I've very pleased I finally cracked open this book. It's definitely another one to put on the list to use again.